The Language Aesthetic & The Phantom Tollbooth
03 Aug, 2012 - Zach Terrell
I went back to reading Norton Juster's The Phantom Tollbooth recently, the same as I have so many times. And I found myself, as always, overcome with delight.
First published in 1961, the story follows a boy named Milo, a rather etiolated fellow suffering from a youthful ennui familiar to us all. The first page explains: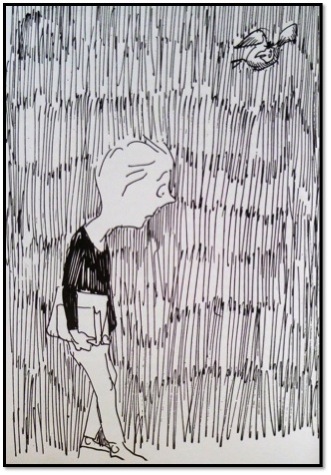 "There once was a boy named Milo who didn't know what to do with himself—not just sometimes, but always. […] "It seems to me that almost everything is a waste of time," he remarked one day as he walked dejectedly home from school. "I can't see the point in learning to solve useless problems, or subtracting turnips from turnips, or knowing where Ethiopia is or how to spell February." And, since no one bothered to explain otherwise, he regarded the process of seeking knowledge as the greatest waste of time of all."
Young Milo had no sense for any unified answer for knowledge and life. You could be forgiven for saying that Milo's listless personality is the inciting incident; we all know he's going to eat his words. What we don't know, however, is that Juster's incisive allegorical adventure, which he unfolds in just over 250 pages, would see Milo literally eat words. But that's precisely the kind of comic-reverie that makes Milo's journey so magical. Not long after uttering his dissatisfaction—and finding himself in receipt of a mysterious package containing a car and a tollbooth that transports him to the Kingdom of Wisdom—Milo arrives in the center of a bustling wordmarket, where he wanders up and down the aisles tasting letters and admiring words he's never heard of before.
Waking From Aesthetic Anesthesia
Milo's adventure turns to quest when he sets out recover order in the Kingdom of Knowledge, a duty requiring the return of its exiled princesses Rhyme and Reason. He goes from Expectations to the Doldrums, to Dictionopolis and the Island of Conclusions, over the Mountains of Ignorance and finally to the Castle in the Air, where the princesses "languish in captivity."1  All the while, Milo is taken through a veritable master class in aesthetics, where everything is not quite as it seems, full of mystery and wonder.
It's important to note the nature of Milo's growth on his way to what we will call "aesthetic obedience." He's not so much learning how to think. Milo is learning to wonder. He's a psalmist taking in the heavens, learning to be what he always was: a child in a zoo of novelty. For the first time in his life, Milo is gawking at the world around him. He finds
"there was so much to see, and hear, and touch—walks to take, hills to climb, caterpillars to watch as they strolled through the garden […] books that could take you anywhere, and things to invent, and make, and build, and break, and all the puzzle and excitement of everything he didn't know—music to play, songs to sing, and worlds to imagine and then someday make real. "
More importantly, as was noted earlier, is how Milo begins his journey. Instead of first sending Milo on a hike or to the park or museum, Juster comprises the constitutive moments of Milo's journey to aesthetic obedience with hyperliteral explorations into the wonderful world of words. What a clever place for Juster to begin the transformation of his insouciant main character, for, according to Alan Weber, "change language and you change reality."
And in that way, as Michael Chabon so aptly pointed out in the 50th anniversary addition of Tollbooth, Milo's adventure is the same one we all have when we venture into books— worlds made entirely of language, by language, and about language. While you are there, everything seems fraught and new and notable, and when you return, even if you don't suffer from Milovian ennui, the "real world" seems deeper, richer, at once explained and, paradoxically, more mysterious than ever. 2
I'm gawking with Milo: the fact that air comes out of my lungs, goes over my vocal chords and is shaped by my tongue and teeth and lips and goes out in waves and enters your ears and makes them jiggle and is transferred into electrical charges that your brain interprets as knowledge, that is nothing short of a miracle.
The "miracle" or "divine element of language," as Richard Weaver called it, is the meaningful connection between words and reality, and it means many things for us.
It means we don't have to "bolster how we talk by pulling in exclamations and by violating different social and ethical norms in order to grab attention, trying to load our speech powerfully enough to gain dominating control of the communicating situation."3 Rather, we can be understated—and I often find the best speakers are—because the truth is weighty. It means we can be both compelling and gentle. It means a children's book (like Tollbooth) can be as profound as any philosophical expatiation. It allows us to rightly interpret Ralph Waldo Emerson's famous quote, "Nothing great was ever achieved without enthusiasm." Enthusiasm is not hyperactivity, it is wonder that bends toward truth. Do you see? The meaningful connection between words and reality tees us up for gracious exchange. But it does more, still.
Salty Language
Albert Einstein said the most important thing anyone can do is name something. This could be an even more pressing lesson for us to learn today, for "speech is the vehicle of order, and those who command it are regarded as having superior insight," wrote Weaver. "Incisive people draw on incisive words to rightly define reality." Pierre Bourdieu agrees—"The act of naming helps to establish the structure of this world. Naming or nomination implies a certain claim to symbolic authority…to impose a certain vision of the world."
If you are a person who lives in hope with the settled conviction that shalom will be realized and humans will truly flourish, you must care to compellingly name reality. This is what Steve Garber refers to as "translation," whereby the truest truths of the universe are translated into a language the whole world can understand. Sadly, what researchers like Christian Smith and Melinda Lundquist Denton are finding is that ours is an "incredibly inarticulate" generation of believers, what with our speech patterns pockmarked with the words "like," "just," and "ya know."4
In biblical times, salt had two purposes: to preserve and to garnish. Perhaps this is what Paul had in mind when he said "Let [our] conversation be…seasoned with salt, so that [we] may know how to answer everyone" (Col 4:6). Salty speech is an accoutrement of ordinary talk that can help preserve meaning and truth by playfully and poignantly defining reality. The more command one has over words, the more wonder one has for the meaning they can winsomely communicate, the better one will be at defining true reality. And because of created order—the meaningful connection between words and reality—we can do it in such a way that "we may know how to answer everyone" …man, woman, child, politician, businessman, professor, postal worker, garbage man, waif, prostitute, rapist, Buddhist, Mormon, or Muslim.
But remember, it begins with wonder. Quickly, find a copy of Tollbooth. Take the time to see yourself in Milo and let his journey be yours, too, because toll fares only continue to rise.
References
[1] Michael Chabon's excellent essay which appeared in the 50th anniversary edition of
Tollbooth.
[2] ibid.
[3] Calvin Seerveld, Rainbows for the Fallen World. Toronto Tuppence Press, 1980.
[4] Mike Metzger, "Insufficient Funds", Nov. 2010.
About the author